ABOUT REGINA OPERA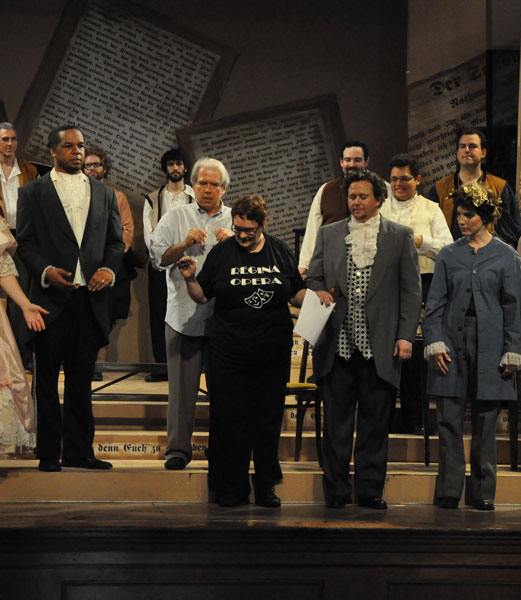 Who We Are
Mission
Regina Opera's mission is to encourage music lovers on a limited budget to attend high-quality operas and concerts by offering ticket prices much lower than those of New York City's major opera houses, to provide a place for young musical artists to be trained in their craft, and to introduce young audiences to opera so that they can become the audience of the future.
Regina Opera offers the residents of New York City a year-round series of operas and concerts to entertain listeners and improve the quality of their lives. Regina Opera promotes and develops public awareness and involvement in classical, semi-classical, and popular vocal music. Regina Opera aims to transform people who have never seen a complete, live opera into the audience of the future. Regina Opera enables audience members to grow to appreciate the operatic repertoire and its "slice of life" emotional release, both dramatic and comic, in a friendly, non-threatening atmosphere.
Regina Opera provides a training ground to nurture the talents and polish the skills of musical and stage artists and directors. Regina Opera encourages the self-expression of many local residents through membership in the opera chorus, singing roles, participation in the Concert Series, and membership in the costume and set design team. Regina Opera is an independent group, free from the control of music conservatories and vocal instructors. Regina Opera gives equal opportunity to all, judging performers only by their talent and interests.
History
Founded in 1970 by Marie Cantoni and Nicholas Tierno, Regina Opera began as a small group of dedicated singers who gave opera recitals, with piano accompaniment, in a tiny auditorium at the Regina Pacis-St. Rosalia Parish Youth Center in Borough Park/Dyker Heights, Brooklyn. The following year, we produced an abridged staged version of La Traviata with piano accompaniment. In 1976, we began performing on the larger stage at Regina Hall (the auditorium of Regina Pacis School), and we acquired an orchestra in 1982. In 2008, a grant enabled us to begin providing supertitles. And in 2012, we moved to a wonderful new home, Our Lady of Perpetual Help School auditorium, whose more professional stage facilities and comfortable audience amenities inaugurated a great new era in Regina Opera's history.
Regina Opera Company, Inc., is a not-for-profit corporation organized under the New York State Not-for-Profit Corporation Law. It is tax-exempt under Section 501(c)(3) of the Internal Revenue Code, and all donations made to Regina Opera are tax-deductible for the donor.
---
Board of Directors
Francine Garber-Cohen - Chair
Linda Cantoni
Joseph Delfausse
Thomaas Lenihan
Corporate Staff
President - Francine Garber-Cohen
Executive Vice President/Secretary/Legal Advisor - Linda Cantoni
Treasurer - Joseph Delfausse

Artistic and Other Staff
Producer - Francine Garber-Cohen
Principal Conductor - Gregory Ortega
Principal Stage Director - Linda Lehr
Associate Stage Director - Linda Cantoni
Vocal Consultant - Phyllis Falletta Olsen
Box Office & Volunteer Coordinator - Joseph Delfausse
Guild Coordinator - Julia Cornely
Costumes - Marcia Kresge
Graphics, Video, Website - Wayne Olsen
Publicity, Fundraising - Francine Garber-Cohen
Supertitles, Program, Facebook - Linda Cantoni

Casting Committee
Phyllis Falletta Olsen
Francine Garber-Cohen
Linda Lehr
Gregory Ortega