HANSEL AND GRETEL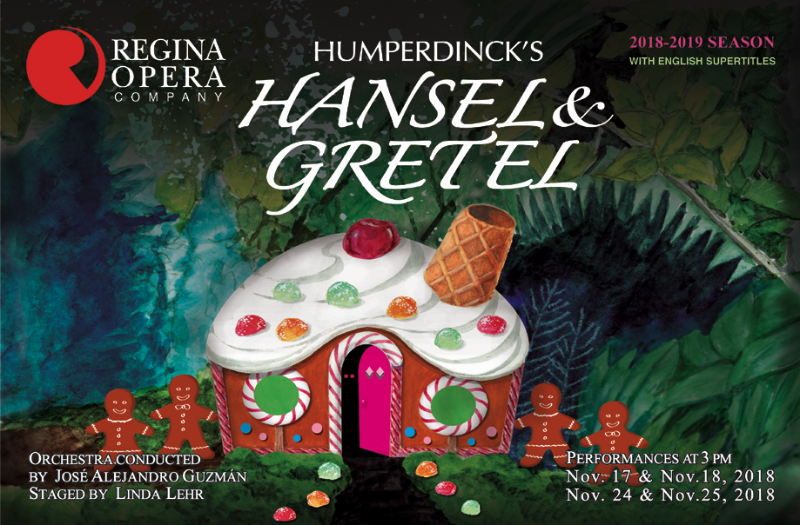 by Engelbert Humperdinck
(1854-1921)
Libretto by Adelheid Wette
Based on the fairy tale by the Brothers Grimm
November 17, 18, 24, and 25, 2018, at 3 PM
Free Sneak-Peek - November 13, 2018, at 7:30 PM
Conducted by José Alejandro Guzmán
Staged by Linda Lehr
Performed in German with English supertitles
---
"Holiday fun." — Nino Pantano, Brooklyn Discovery

"An impressive job of telling the story through music, dancing and design." — Christina Grande, Brooklyn Reporter
---
The Cast
Hansel: Perri Sussman (11/17 & 11/25), Caroline Tye (11/18 & 11/24)
Gretel: Elisa Sunshine (11/17 & 11/25), Christa Hylton (11/18 & 11/24)
Mother: Rebecca Kidnie (11/17 & 11/25), Dawn Kunkel (11/18 & 11/24)
Father: Jose Cuartas (11/17 & 11/25), GeeSeop Kim (11/18 & 11/24)
Witch: Heather Antonissen (11/17 & 11/25), Galina Ivannikova (11/18 & 11/24)
Sandman: Jennie Mescon (11/17 & 11/25), Elena Jannicelli-Sandella (11/18 & 11/24)
Dew Fairy: Kerianna Krebushevski (11/17 & 11/25), Taerra Pence (11/18 & 11/24)

November 13 Sneak-Peek Performance
Hansel: Maayan Voss de Bettancourt*; Gretel: Katie Lipow*;
Mother: Julianna Milin*; Father: GeeSeop Kim;
Witch: Heather Antonissen; Sandman: Cassandra Santiago*;
Dew Fairy: Aliya Meredith Weinstein*
*cover

Dancers
Wendy Chu (Angel 1), Kelly Vaghenas (Angel 2),
Kirsten Reynolds (Cat 1), Claudia Maciejuk (Cat 2)

Children
Nomi Barkan, Alva Lejon Cutler, Robin Fuller, Zoë Koivisto,
Estlin Linnenbrink, Mieke Nievergelt, Jasmine Patrick, Taiki Pürschel,
Emmie Romines, Micah Schulz, Rio Thielow, Jette Weidmann

Angels and Ensemble
Maayan Voss de Bettancourt, Susanna Booth, Monica Camafreita,
Alexandra Cummings, Catherine Greco, Kerianna Krebushevski,
Katie Lipow, Jennie Mescon, Julianna Milin, Taerra Pence,
Elena Jannicelli-Sandella, Cassandra Santiago,
Ksenia Stepanova, Aliya Meredith Weinstein

---
The Story
About Engelbert Humperdinck and Hansel and Gretel
No, the famous British pop singer from the 1960s — real name Arnold Dorsey — did not compose this opera. The Engelbert Humperdinck who wrote Hansel and Gretel was born in Germany in 1854. In the 1890s, his sister, Adelheid Wette, had written a libretto based on the Grimm fairy tale, and asked her brother to set it to music as a Christmas entertainment for her children. Later, Engelbert and Adelheid decided to turn this modest family project into a full-scale opera. Hansel and Gretel premiered on December 23, 1893 at Weimar. It was an instant hit and remains an everlasting masterpiece. The young composer Richard Strauss, who was the assistant conductor for the premiere, called it "a masterwork of the first rank."
Act I
Scene 1. A poor cottage at the edge of a forest.
Once upon a time...
... a brother and sister named Hansel and Gretel lived with their father and mother, Peter and Gertrude, at the edge of a huge forest. When our story opens, they are alone in their poor cottage, hard at work at their chores, and very very hungry. Gretel teases Hansel for being a grump, and promises to tell him a secret if he will cheer up — there's milk in the jug, and their mother will make them a nice pudding when she comes home. Hansel sneaks a taste of the milk, but Gretel warns him that their mother will be angry if they don't get back to work. Hansel refuses; he prefers to dance. Gretel thinks that's a wonderful idea, and they begin to dance ("Brother, come and dance with me"). In the middle of all the fun, Gertrude comes home in a very bad mood, angry at them for not having finished their work. She gets a stick to hit them, and, as they escape, she accidentally knocks over the jug, spilling all the milk. She angrily orders them out of the house to pick strawberries. Then she despairs, and begs God for help in feeding her children. Exhausted, she falls asleep.
Peter is heard singing in the distance. He reels into the house and gives Gertrude a big smacking kiss. She is not amused, and accuses him of being drunk. He ignores her nagging and playfully asks for supper. She tells him that there's nothing to eat, but, to her surprise, he pulls out a sackful of food. It seems that he had gone to town to sell his brooms, and there was a festival going on, so he managed to make a huge profit. Gertrude toasts his success, and, as they begin to dig into the food, he realizes that the children aren't there. Gertrude tells him how Hansel and Gretel were misbehaving, and how she broke the milk jug trying to get at them. Peter laughs heartily at this, and Gertrude can't help joining in. He asks again where they are, and she replies, "For all I know, at the Ilsenstein." Peter is struck with horror, for the Ilsenstein is the mountain abode of a horrible witch who rides on a broomstick, lures children to her gingerbread house, and — bakes them into gingerbread! They rush out of the house in search of the children.
Scene 2. The Forest.
It is now sunset. Hansel is roaming about in the forest picking strawberries, while Gretel makes a crown of flowers and sings a little song. They begin snacking on the berries as they listen to a cuckoo singing on the distance. Soon they begin fighting over the strawberries, but Hansel grabs the basket away from Gretel and eats them all. Gretel is horrified; now they'll have to pick twice as many as before. It's getting dark, and they realize that they are lost in the woods. Hansel tries to reassure her, but they begin to see strange shapes and lights. When Hansel calls out, "Who's there?" only an echo replies. Gretel thinks she sees ghostly figures coming for them and cries out for her parents. Out of the mist, a little man appears with a sack on his back. It is the Sandman, and he sprinkles his magic sand on them to help them sleep. The children say their Evening Prayer ("Now I lay me down to sleep") and fall into a deep sleep as angels appear to watch over them.
Act II
The Witch's House in the Forest. Dawn.
The Dew Fairy sprinkles dew on the children to gently wake them. Gretel wakes up first and greets the morning with a song. Then she tickles Hansel awake. She tells him that she dreamt of angels; Hansel is surprised, for he had the same dream. Suddenly, a beautiful gingerbread house appears in the forest. They run up to it, inspecting the candy and cake trimming the house, eager to start eating and hoping that whoever lives in the house will invite them in. Hansel knocks, but no one answers. Gretel stops him from opening the door, but he argues that the angels they saw in their dream must live in the house, and that it will be all right if they just start eating. As Hansel breaks off a piece of cake, they hear a strange voice from inside the house:
Nibble, nibble, mousekin,
Who's nibbling at my housekin?
The children freeze with fear, but then, concluding that it must be the wind, go on to taste the treats. It is heavenly! They grab more sweets off the house, but again stop dead when they hear:
Nibble, nibble, mousekin,
Who's nibbling at my housekin?
They answer the voice, saying that it's the wind. They go on eating and laughing, but soon someone else is laughing with them: a horrible Witch. She takes hold of them, eyeing them hungrily and telling them how much she loves children -- to eat. Hansel and Gretel struggle to escape, but the Witch laughs at them, describing all the goodies she will feed them to fatten them up and make them tender and delicious. They manage to break away, but she freezes them with a spell that she casts from a magic stick:
Hocus pocus, malus locus, bonus jocus!
Hansel is led into a cage, and the Witch goes into the house, leaving Gretel frozen in place. Hansel tells Gretel that he has a plan, and that she should do whatever the Witch tells her to.
The Witch returns with a basket of sweets, ordering Hansel to eat. She unfreezes Gretel with another spell —
Hocus pocus, elderbush, rigid body loosen, whoosh!
— and orders her to go into the house to set the table for supper. Hansel, meanwhile, pretends to be asleep. The Witch gloats over her plan to eat Gretel first by having her look into the oven and pushing her into it, baking her into gingerbread. She gleefully dances with her broomstick ("So hop, hop, hop, galop, lop, lop").
Now the Witch wakes Hansel up to see if he is fat enough. She tells him to put out a finger so she can feel it, but Hansel pokes out a twig instead, and the nearsighted old hag is sorely disappointed at how skinny he is. She calls for Gretel to bring more sweets for him. While the Witch is feeding him, Gretel, seeing the magic stick unattended, grabs it and recites the unfreeze spell. The Witch suddenly turns to her and asks what she said, but Gretel merely replies that Hansel will never get fat. The Witch stops her mouth with food. As the Witch goes to check the oven, Hansel tells Gretel to be careful. The Witch calls Gretel over and asks her to look in the oven to see if the gingerbread is done yet. Gretel pretends not to understand, and asks the Witch to show her how. Annoyed, the Witch sticks her head in. Hansel, meanwhile, has crept out of the cage, and he and Gretel shove the Witch into the oven and bang the door shut. They dance with joy at the Witch's destruction.
Hansel rushes into the house and comes out again with all sorts of delicious food. Then the oven explodes, and the gingerbread figures around the house are suddenly transformed into real children, frozen in place with their eyes closed. The children ask Hansel and Gretel to touch them to open their eyes. Then Hansel grabs the magic stick, recites the unfreeze spell, and the children are free. They joyfully thank Hansel and Gretel and dance with them.
Now Peter is heard in the distance sadly calling for Hansel and Gretel. When he and Gertrude arrive, Hansel and Gretel rush into their arms. The other children take the Witch, now a huge gingerbread cookie, out of the oven. Everyone thanks God and dances triumphantly.
©1998 Linda Cantoni